Actinic keratosis: аctual view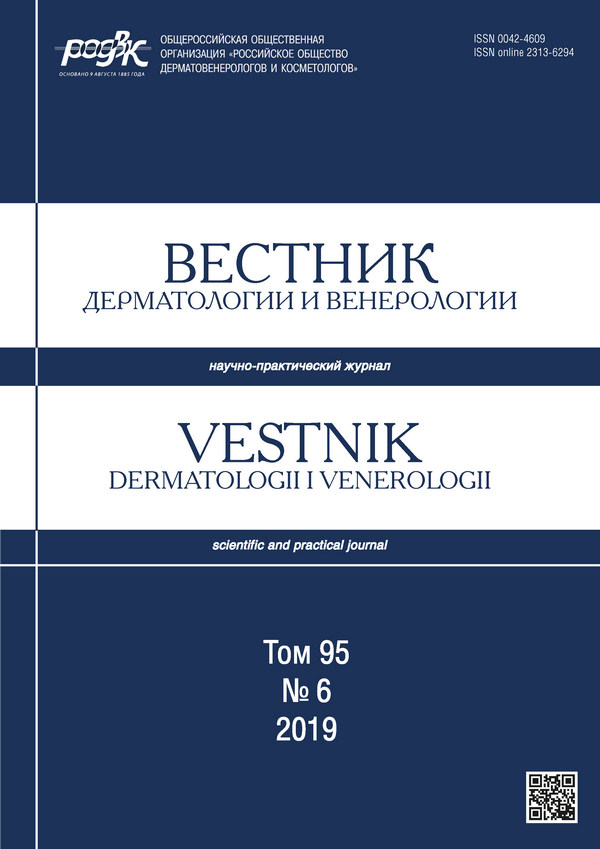 Authors: Abramova T.V.1, Murakhovskaya E.K.2, Kovaleva Y.P.3
Affiliations:

State Research Center of Dermatovenereology and Cosmetology, Ministry of Health of the Russian Federation
Russian Medical Academy of Continuous Professional Education, Ministry of Health of the Russian Federation
Сlinic Constanta, LLC

Issue: Vol 95, No 6 (2019)
Pages: 5-13
Section: REVIEWS
Cite item
Abstract
The article summarizes information about the actinic keratosis. Presented data of the literature about the prevalence of the disease, the features of the clinical picture, diagnosis, differential diagnosis and treatment of dermatosis.
About the authors
State Research Center of Dermatovenereology and Cosmetology, Ministry of Health of the Russian Federation
Email: abtava@mail.ru

Cand. Sci. (Med.), Assoc. Prof., Senior Researcher
Korolenko str., 3, bldg 6, Moscow, 107076, Russian Federation



Russian Federation
Russian Medical Academy of Continuous Professional Education, Ministry of Health of the Russian Federation
Author for correspondence.
Email: murakhovskayaek@mail.ru

Cand. Sci. (Med.), Assistant, Department of Dermatovenerology and Cosmetology
Barrikadnaya str., 2/1, Moscow, 123995, Russian Federation




Russian Federation
Сlinic Constanta, LLC
Email: julietta-282005@mail.ru

Oncologist, Dermatovenerologist
Pobedy str., 15, Yaroslavl, 150003, Russian Federation




Russian Federation
References
Schmitz L., Kahl P., Majores M. et al. Actinic keratosis: correlation between clinical and histological classification systems. JEADV. 2016;30:1303–1307.
Strunk T., Braaten L. R., Szeimies R.M. Актинический кератоз — обзор литературы. Вестник дерматологии и венерологии. 2014;5:42–52.
Werner R. N., Jacobs A., Rosumeck S. et al. Methods and results report — evidence and consensus based (S3) guidelines for the treatment of actinic keratosis — international league of dermatological societies in cooperation with the European dermatology forum. JEADV. 2015;29(11):2069–2079.
Beasley K. L., Weiss R. A. Radiofrequency in cosmetic dermatology. Dermatol Clin. 2014;32(1):79–90.
De Olivera E. C. V., da Motta V. R. V., Pantoja P.C. et al. Actinic keratosis — review for clinical practice. Int J Dermatol. 2019;58(4):400–407.
Criscione V. D., Weinstock M. A., Naylor M. F. et al. Actinic keratoses: natural history and risk of malignant transformation in the Veterans Affairs topical tretinoin chemoprevention trial. Cancer. 2012;115:2523–2530.
Feldman S. R., Fleischer A.B. Progression of actinic keratosis to squamous cell carcinoma revisited: clinical and treatment implications. Cutis. 2011;87(4):201–207.
Каприн А. Д., Старинский В. В., Петрова Г. В. (ред.) Состояние онкологической помощи населению России в 2017 году. М., 2018. 236 с.
Bäckvall H., Asplund A., Gustafsson A. et al. Genetic tumor archeology: microdissection and genetic heterogeneity in squamous and basal cell carcinoma. Mutat Res. 2005;571(1–2):65–79.
Padilla R. S., Sebastian S., Jiang Z. et al. Gene expression patterns of normal human skin, actinic keratosis and squamous cell carcinoma. Arch Dermatol. 2010;146(3):288–293.
Tomas D. Apoptosis, UV-radiation, precancerosis and skin tumor. Acta Med Croatica. 2009;63(2):53–58.
Dreno B., Amici J. M., Basset-Seguin N. et al. Management of actinic keratosis: a practical report and treatment algorithm from AKTeam expert clinicians. JEADV. 2014;28:1141–1149.
Parrish J. A. Immunosuppression, skin cancer, and ultraviolet A radiation. N Engl J Med. 2005;353(25):2712–2713.
McBride P., Neale R., Pandeya N., Green A. Sun-related factors, beta papillomavirus, and actinic keratoses: a prospective study. Arch Dermatol. 2007;143(7):862–868.
Plasmeijer E. I., Neale R. E. Buettner P. G. Betapapillomavirus infection profiles in tissue sets from cutaneous squamous cell-carcinoma patient. Intl J Cancer. 2010;126(11):2614–2621.
Peris K., Calzavara-Pinton P. G., Neri L. Italian expert consensus for the management of actinic keratosis in immunocompetent patients. JEADV. 2016;30(7):1077–1084.
Quaedvlieg P. J., Tirsi E., Thissen M. R., Krekels G. A. Actinic keratosis: how to differentiate the good from the bad ones? Eur J Dermatol. 2006;16(4):335–339.
Park H., Kim W., Kim H., Yeo H. Cutaneous horn in premalignant and malignant conditions. Arch Craniofac Surg. 2016;17(1): 25–27.
Copcu E., Sivrioglu N., Culhaci N. Cutaneous horns: are these lesions as innocent as they seem to be? World J Surg Oncol. 2004;2:18.
Хлебникова А. Н., Бобров М. А., Селезнева Е. В., Чанглян К. А. Морфологические особенности актинического кератоза. Российский журнал кожных и венерических болезней. 2012;2:10–15.
Zalaudek I., Giacomel J., Argenziano G. et al. Dermoscopy of facial nonpigmented actinic keratosis. Br J Dermatol. 2006;155(5):951–956.
Хлебникова А. Н., Обыденова К. В., Седова Т. Г., Андрюхина В. В. Диагностика актинического кератоза методом дерматоскопии. Вестник дерматологии и венерологии. 2017;(2):45–52.
Peris К., Micantonio T., Piccolo D. et al. Dermoscopic features of actinic keratosis. J Dtsch Dermatol Ges. 2007;5(11):970–976.
Goldenberg G. Treatment considerations in actinic keratosis. JEADV. 2017;31(S2):12–16.
Seyed Jafari S. M., Timchik T., Hunger R. E. In vivo confocal microscopy efficacy assessment of daylight photodynamic therapy in actinic keratosis patients. JEADV. 2016;175(2):375–381.
Pellacani G., Ulrich M., Casari A. et al. Grading keratinocyteatypia in actinic keratosis: a correlation of reflectance confocal microscopy and histopathology. JEADV. 2015;29(11):2216–2221.
Berry K., Butt M., Kirby J. S. Influence of information framing on patient decisions to treat actinic keratosis. JAMA Dermatol. 2017;153(5):421–426.
Pomerantz H., Hogan D., Eilers D. et all. Long-term efficacy of topical fluorouracil cream, 5 %, for treating actinic keratosis: a randomized clinical trial. JAMA Dermatol. 2015;151(9):952–960.
Rosen R. H., Gupta A. K., Tyring S. K. Dual mechanism of action of ingenol mebutate gel for topical treatment of actinic keratoses: rapid lesion necrosis followed by lesion-specific immune response. J Am Acad Dermatol. 2012;66(3):486–493.
Bobyr I., Campanati A., Consales V. Ingenol mebutate in actinic keratosis: a clinical, videodermoscopic and immunohistochemical study. JEADV. 2017;31(2):260–266.
Pellacani G., Peris K., Guillen C. et al. A randomized trial comparing simultaneous vs. sequential field treatment of actinic keratosis with ingenol mebutateon two separate areas of the head and body. JEADV. 2015;29(11):2192–2198.
Thomas G. J., Herranz P., Cruz S. B., Parodi A. Treatment of actinic keratosis through inhibition of cyclooxygenase-2: Potential mechanism of action of diclofenac sodium 3 % in hyaluronic acid 2,5 %. Dermatol Ther. 2019;32(3):e12800.