Distributed glabrous skin mycosis involving foot nail lesions and showing resistance to antifungal therapy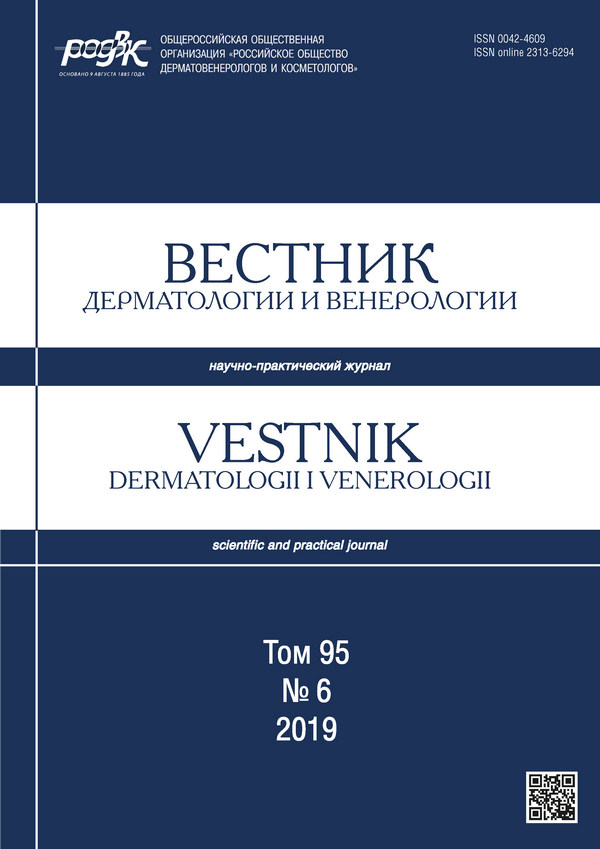 Authors: Kozhichkina N.V.1
Affiliations:

State Research Center of Dermatovenereology and Cosmetology, Ministry of Health of the Russian Federation

Issue: Vol 95, No 6 (2019)
Pages: 55-60
Section: CLINICAL CASE REPORTS
ID: 533
Cite item
Abstract
This article presents an analysis of publications on strains resistant to antifungal drugs and describes a clinical case of a 57-year-old patient suffering from distributed glabrous skin mycosis with foot nail lesions  resistant to antifungal therapy. The clinical picture, diagnosis and treatment of the fungal disease is described. Against the background of antifungal treatment, the clinical and mycological cure of the trunk skin and foot nail mycosis was achieved.
About the authors
State Research Center of Dermatovenereology and Cosmetology, Ministry of Health of the Russian Federation
Author for correspondence.
Email: konat1@yandex.ru

Cand. Sci. (Med.), Junior Researcher, Department of Dermatology
Korolenko str., 3, bldg 6, Moscow, 107076, Russian Federation




Russian Federation
References
Budak A., Bogusz B., Tokarczyk M., Trojanowska D. Dermatophytes isolated from superficial fungal infections in Krakow, Poland, between 1995 and 2010. Mycoses. 2013;6(4):422–428.
Sarifakioglu E., Seckin D., Demirbilek, Can F. In vitro antifungal susceptibility patterns of dermatophyte strains causing tinea unguium. Clin Exp Dermatol. 2007 Nov;32(6):675–679. Epub 2007 Aug 22.
Gupta A. K., Kohli Y. Evaluation of in vitro resistance in patients with onychomycosis who fail antifungal therapy. Dermatology. 2003;207(4):375–380.
Mendez-Tovar L. J., Manzano-Gayosso P., Velasquez-Hernandes V. et al. Resistance to azolic compounds in clinical Trichophyton spp. strains. Rev Iberoam Micol. 2007 Dec 31;24(4):320–322.
Bradley M. C., Leidich S., Isham N., Elewski B. E., Ghannoum M. A. Antifungal susceptibilities and genetic relatedness of serial Trichophyton rubrum isolates from patients with onychomycosis of the toenail. Mycoses. 1999;42 Suppl 2:105–110.
Kozhichkina N. V. Mold onychomycosis: a diagnostic algorithm and prevention. Medical technology for dermatologist, mycologist and laboratory-doctor. Moscow, 2001. P. 9–10.
Fedorova L. S., Stepanova Z. V., Kozhichkina N. V. New methods for the shoes desinfection. Disinfection Journal. 2005;3:39–42.
Stepanova Z. V. Prevention mycosis. Moscow, 2008. P. 12–15.
Sheklakov N. D., Leshenko V. M. Methodical recommendation for clinics, diagnostic, treatment and prevention mycosis foot. Moscow, 1979. P. 14–15.
Kashkin P. N. Dermatomycosis. Guide for doctors. Leningrad: Meditsina, 1967. P. 223–227.