Treatment of the nevus sebaceous of Jadasson by a copper vapor laser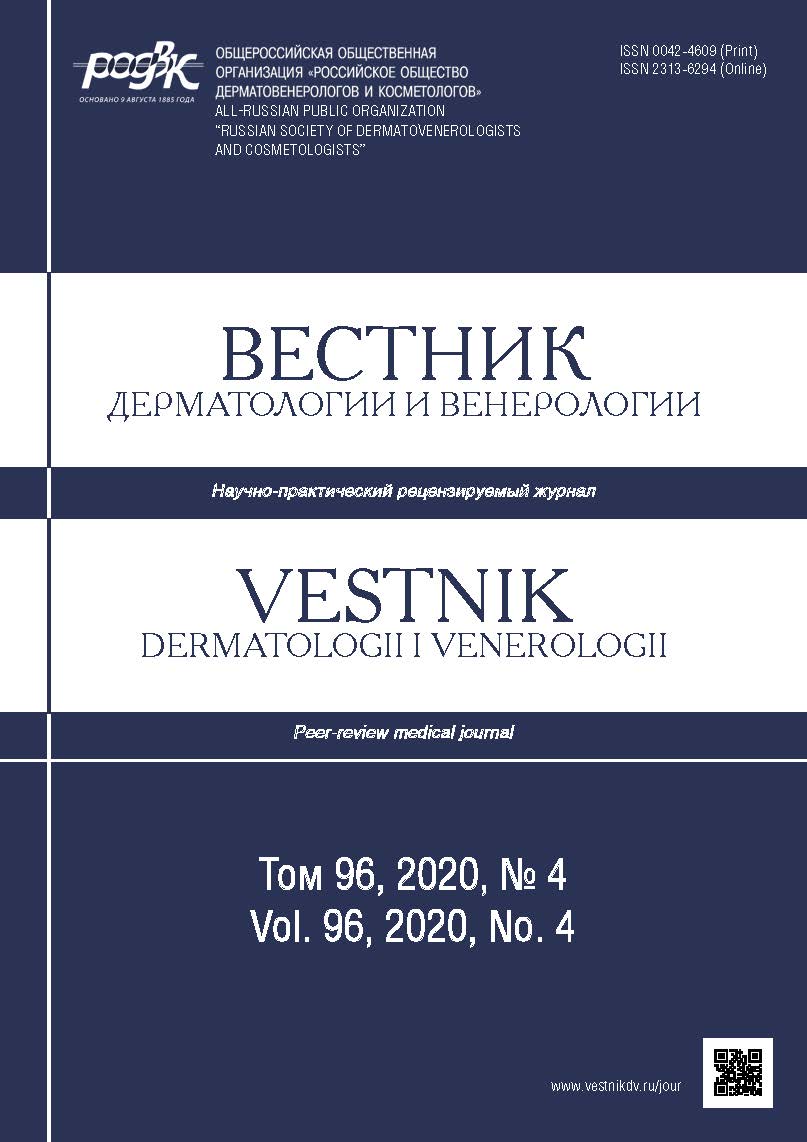 Cite item
Abstract
Introduction. Nevus sebaceous of Jadassohn (synonym: nevus of the sebaceous glands) (NSG) presents the congenital malformation of the skin with possible transformation into benign or malignant tumors during the adolescence or adulthood. Commonly appeared on the scalp or neck NSG is frequently concern with cosmetic problems making patients look for opportunities for its removal. Surgical removal of the NSG is related to an elevated risk of scarring. Using ablative lasers has proven to be effective in the removal of small NSG. However, the removal of medium and large NSG with ablative lasers was reported to be linked with a high risk of scarring and recurrence. The removal of the medium-sized NSG with a copper vapor laser (CVL) is described here for the first time.
Case report and procedure. Laser removal of NSG (linear sized of 27 mm) was performed in a 25-year-old female patient with Fitzpatrick skin type II during eight CVL treatments. Laser settings were selected as follows: the average power of 1 W at the power ratio of 3:2 radiation at a wavelength of 511 and 578 nm. Pulse duration — 20 nanoseconds, reprate — 16.6 kHz, exposure duration — 200 ms, and the light spot's diameter on the skin — 1 mm.
Results. After 8 procedures, the skin in the area of the removed NSG acquired a natural color and appearance. During 24 months of follow-up, there was no hyperpigmentation or signs of scars in the irradiated area. No relapses were observed for 24 months after the CVL removal of NSG.
Conclusion. The application of non-ablative CVL removal of NSG ensured a desired cosmetic result without side effects.
Full Text
Introduction
Nevus of the sebaceous glands of Yadasson (synonym: nevus of the sebaceous glands) (SN) is a congenital malformation of the skin, first described by Joseph Jadasso Joseph Jadassohn in 1895. It was reported that the prevalence of SN in newborns varies in the range of 0.1–0.3% [1]. NSG can manifest itself as either single or associated with SCALP syndrome (sebaceous nevus, malformations of the central nervous system, congenital aplasia of the skin, limbal dermoid and pigmented nevus) and Schimmelpenning-Feuerstein-Mims syndrome (SFM), which manifests itself as sebaceous and concomitant brain development abnormalities, associated with skeletal, ophthalmic, and less commonly cardiovascular and urogenital defects [2, 3]. NSG increases due to hyperplasia of sebocytes, epidermis and papillary dermal layer cells. It is known that due to the fact that sebocytes are prone to the manifestation of a pro-inflammatory phenotype with the expression of anti-inflammatory growth factor (VEGF), cytokines and adipokines, the progression of SN is inevitably associated with remodeling of the vascular bed associated with the affected area [4]. Since sebocytes are most sensitive to sex hormones, during puberty, NSC increases in size and becomes more noticeable. Histopathological hyperplasia of the epidermis of the SN was described as a simple, verrucous, seborrheic keratose-like and acrocordic types [3]. Some types of NSG are associated with erythema or ectasia of the vessels, while it was reported that seborrheic hyperplasia is associated with pointed vessels [5-7]. In view of the aforementioned pathomorphological features of NSF, its pathogenetic management should ensure the complete elimination of hyperplastic both sebaceous and epidermal cells and prevent the formation of a microvascular bed associated with the region of the SN. Since SN leads to cosmetic defects in visible areas of the neck or head, its treatment can be in demand both for psychological reasons and to improve the quality of life of patients. On the other hand, benign (seborrheic keratosis, syringocystadenoma papilliferum and trichoblastoma on the scalp) and malignant (basal cell carcinoma) tumors were found in 25% of patients with SN [8-11]. Surgical excision of a large SN, especially located on the scalp and face, is limited by soft tissue weakness, hairy skin and convex surfaces [1].
As noted in various studies, laser treatment is the least traumatic treatment for NSG. Ablation lasers (CO2 and Er: YAG) show high efficiency for small sizes of SN, but are associated with the risk of complications, relapses, scars, and bleeding due to high vascularization in the area of ​​location of the SN [12, 13]. It was reported that erythema was observed for several months after the treatment of face lumbar ablation with ablation lasers. To prevent scar formation, additional pulsed dye laser treatment was required [13]. It seems advisable to use CVL radiation with two wavelengths, providing inhibition of anti-inflammatory VEGF, effective heating of lipids of sebum, melanin, oxyhemoglobin and hemoglobin. With the help of CVL, it is possible to ensure the removal of sebaceous cells of the nevus, acanthotic cells and block blood flow in the microvascular bed associated with NSG [14, 15]
In this report, we are the first to describe our experience in the treatment of CVL of a patient with NSG.
Case Description
In September 2014, we received a 25-year-old patient M., with a pronounced yellow-brown NJ in the temporal region on the left (linear size 27 mm). Skin neoplasm has been present since birth. The patient did not have other similar tumors on the skin. She decided to see a doctor, because over the past two years, the size of the NSG has increased and caused a pronounced cosmetic defect. Detailed clinical history was recorded, including the evolution of nevus, associated symptoms. The diagnosis is based on clinical signs, dermoscopy and confirmed by histopathology. Histological examination revealed mature sebaceous cells and acanthotic cells in the lower papillary and upper reticular layers of the skin. Written informed consent was obtained from the patient for the treatment of SN with CVL.
The treatment of CVL (Yakhroma-Med, P.N. Lebedev Physical Institute of the Russian Academy of Sciences) was performed at an average power of 1.0 W with a ratio of wavelengths of green and yellow 3: 2. the exposure time was 0.2 s. The diameter of the light spot on the skin was 1 mm. NLF (linear size 27 mm) was successfully treated during eight CVL procedures.
Immediately after laser treatment, the color of the nevus acquired a grayish tint for several days. After 7-10 days, the crusts exfoliated with restoration of the epidermis without hyper- or hypopigmentation. The treatment was carried out without anesthesia. After laser exposure, the skin was treated with a 0.05% chlorhexidine gluconate solution. In the early postoperative period, Bepanten cream was applied twice a day. The healing process after the laser procedure
Results According to clinical observation, after healing of the treatment area, complete regression of the NJ was achieved.a) b) Figure 1. Nevus of the sebaceous glands before (a) and full resolution of the neoplasm 8 months after eight treatment procedures for CVL (b) Figure 1 shows excellent clinical and cosmetic results after CVL treatment of NSW. There were no relapses or side effects, such as dyschromia, atrophy, scarring, during the entire observation period up to 24 months after treatment. Discussion Many researchers examined atrivayut CNM as a risk factor and precancerous diseases [16, 17]. Surgical excision, dermabrasion, local photodynamic therapy, and cryosurgery have been used with varying degrees of success for the treatment of NSC, however, the treatment of NSC remains a challenge [18]. The risk of relapse and the potential development of neoplasia is associated with incomplete elimination of NSG. Ablative lasers (Er: YAG and CO2) are used to treat LVJ [19, 20, 21]. A study by Bhat Y. J in al. showed successful results of treatment with NSG using a CO2 laser, but in 26% of cases, patients showed hyperpigmentation and mild atrophic scarring (13% of cases) after treatment [19]. It was reported that the use of ablation lasers (CO2, Er: YAG) was limited due to bleeding during the procedure, hypopigmentation and scarring. A high risk of relapse when using ablative laser treatment can be associated with the absence of photodestruction of microvessels in the papillary and upper reticular dermis, since laser radiation from ablative lasers cannot provide their selective photodestruction. The emission of CVLs with two wavelengths seems to be promising for pathogenetic laser therapy for NSG. It was reported that CVL emission with wavelengths of 511 and 578 nm inhibits VEGF [22], destroys pigment and destroys the telangiectatic microvascular bed [23]. The CVL radiation with a wavelength of 578 nm, which is effectively absorbed by oxyhemoglobin and deoxyhemoglobin, provides remodeling of the vascular bed, preventing both relapses and malignancy of the LVL [14, 23]. Two-wave CVL radiation provides quick healing without side effects after the laser procedure, because radiation with wavelengths of 511 and 578 nm do not penetrate below the papillary layer due to the high absorption of melanin and oxyhemoglobin [23, 24].
Conclusion Treatment with CVL appears to be effective and safe in the treatment of NSG. The CVL radiation provides the most relevant result of the treatment of NSG, due to the complete elimination of nevus cells and remodeling of the vascular bed associated with nevus. VLM provides remodeling of the epidermis, sebaceous glands and microvascular bed of the papillary layer of the skin, which provides excellent cosmetic results and prevents possible malignancy of the NSG. Additional studies are necessary to determine the optimal parameters of laser exposure to achieve maximum treatment efficiency and minimize the risk of complications.
About the authors
P.N. Lebedev Physical Institute of the Russian Academy of Sciences
Author for correspondence.
Email: luklalukla@ya.ru
ORCID iD: 0000-0002-3345-3482
ResearcherId: M-7464-2015
http://www.yachroma.com

Физический институт им.П.Н.Лебедева РАН к.ф.м.н.
Руководитель проекта
Russian Federation, 53, Ленинский проспект, Москва, 119991,
P.N. Lebedev Physical Institute of the Russian Academy of Sciences
Email: sergtopchiy@mail.ru
ORCID iD: 0000-0001-6540-9235

старший научный сотрудник, к.ф.м.н.
Russian Federation, 53, Ленинский проспект, Москва, 119991
Medical Center "Health Institute"
Email: ure.doc@rambler.ru

хирург, онкодерматолог, Заведующий отделением Медицинский центр «ИНСТИТУТ ЗДОРОВЬЯ»
Ukraine, 61000, Украина, Харьков, Площадь Конституции, 26
National Medical Research Center for Children's Health of the Ministry of Health of the Russian Federation
Email: shakina@nczd.ru
ORCID iD: 0000-0002-3811-4367

д.м.н., главный научный сотрудник
Russian Federation, 119991, г. Москва, Россия, Ломоносовский проспект, 2.
References
Goel P, et al. Sebaceous Nevus of the Scalp. Journal of Craniofacial Surgery. 2020;31(1):257–260.
Happle R. The group of epidermal nevus syndromes: Part I. Well defined phenotypes. Journal of the American Academy of Dermatology. 2010;63(1):1–22.
Kiedrowicz M, et al. Therapeutic effects of CO2 laser therapy of linear nevus sebaceous in the course of the Schimmelpenning-Feuerstein-Mims syndrome. Advances in Dermatology and Allergology/Postȩpy Dermatologii i Alergologii. 2013;30(5):320.
Töröcsik D, et al. Genome wide analysis of TLR1/2-and TLR4-activated SZ95 sebocytes reveals a complex immune-competence and identifies serum amyloid A as a marker for activated sebaceous glands. PloS one. 2018;13(6).
Lobato-Berezo A, Aguilera-Peiró P, Pujol-Vallverdú RM. Tumor Collision Over Sebaceous Nevus: Clues for Dermoscopic Diagnosis. Actas dermo-sifiliograficas. 2018;109(7):647–648.
Massa LR, Stone MS. An unusual hematopoietic proliferation seen in a nevus sebaceous. Journal of the American Academy of Dermatology. 2000;42(5):881–882.
Argenziano G, et al. Vascular structures in skin tumors: a dermoscopy study. Archives of dermatology. 2004;140(12):1485–1489.
Rosen H, et al. Management of nevus sebaceous and the risk of basal cell carcinoma: an 18‐year review. Pediatric dermatology. 2009;26(6):676–681.
Bahcekapili D, et al. Nevus sabaceus associated with seborrheic keratosis. J Eur Acad Dermatol Venereol. 2006;20:875.
Idriss MH, Elston DM. Secondary neoplasms associated with nevus sebaceus of Jadassohn: a study of 707 cases. Journal of the American Academy of Dermatology. 2014;70(2):332–337.
Wang F, et al. Syringocystadenoma papilliferum and trichoblastoma arising in the nevus sebaceous. Indian Journal of Pathology and Microbiology. 2018;61(1):106.
Aithal A. Nevus sebaceous: Response to erbium YAG laser ablation. Indian Journal of Plastic Surgery. 2005;38(01):48–50.
Lee H, et al. Nevus sebaceous treated with fractional carbon dioxide laser followed by pulsed dye laser. Indian journal of dermatology, venereology and leprology. 2014;80(5):478.
Ключарева С.В., Пономарев И.В., Топчий С.Б., Пушкарева А.Е., Андрусенко Ю.Н. Лечение базальноклеточного рака кожи в периорбитальной области импульсным лазером на парах меди. Вестник дерматологии и венерологии. 2018;94(6):17–23. [Klyuchareva SV, Ponomarev IV, Topchy SB, Pushkareva AE, Andrusenko YuN. Treatment of basal cell cancer in the periorbital area using a pulsed copper vapour laser. Vestnik Dermatologii i Venerologii. 2018;94(6):17–23. (In Russ).]
Ключарева С.В., Пономарев И.В., Топчий С.Б., Пушкарева А.Е. Лечение ринофимы с помощью лазера на парах меди. Вестник дерматологии и венерологии. 2018;94(5):50–58. [Klyuchareva SV, Ponomarev IV, Topchiy SB, Pushkareva AE. Treatment of rhinophyma using a copper vapor laser. Vestnik Dermatologii i Venerologii. 2018;94(5):50–58. (In Russ).]
Kelati A, et al. Dermoscopic analysis of nevus sebaceus of Jadassohn: a study of 13 cases. Skin appendage disorders. 2017;3(2):83–91.
Barkham MC, et al. Should naevus sebaceus be excised prophylactically? A clinical audit. Journal of plastic, reconstructive & aesthetic surgery. 2007;60(11):1269–1270.
Tang MYP, et al. Surgical excision of sebaceous nevus in children: What are the risks? Journal of Dermatology and Dermatologic Surgery. 2019;23(2):73.
Bhat YJ, et al. Evaluation of carbon dioxide laser in the treatment of epidermal nevi. Journal of cutaneous and aesthetic surgery. 2016;9(3):183.
Pearson IC, Harland CC. Epidermal naevi treated with pulsed erbium: YAG laser. Clinical and Experimental Dermatology: Clinical dermatology. 2004;29(5):494–496.
Гайдина Т.А. и др. Актуальность удаления невуса Ядассона у лиц молодого возраста. Вестник Российского государственного медицинского университета. 2018;3. [Gaydina TA, et al. Aktual'nost' udaleniya nevusa Yadassona u lits molodogo vozrasta. Vestnik Rossiyskogo gosudarstvennogo meditsinskogo universiteta. 2018;3. (In Russ).]
Lee HI, et al. Clinicopathologic efficacy of copper bromide plus/yellow laser (578 nm with 511 nm) for treatment of melasma in Asian patients. Dermatologic surgery. 2010;36(6):885–893.
Ключарева С.В., Пономарев И.В., Пушкарева А.Е. Лечение сосудистых мальформаций кожи с применением лазеров на парах меди и импульсного лазера на красителе. Вестник дерматологии и венерологии. 2018;94(1):65–75. [Klyuchareva S.V., Ponomarev I.V., Pushkareva A.E. Therapy of Skin Vascular Malformations Using Copper Vapor Laser and Pulsed Dye Laser. Vestnik Dermatologii i Venerologii. 2018;94(1):65–75. (In Russ).]
Jacques S.L. Optical properties of biological tissues: a review. Physics in Medicine & Biology. 2013;58(11):R37.
Supplementary files
There are no supplementary files to display.